It's easy to be restless and discontented even though we know we have so many good conditions in our life and a huge amount of freedom to do almost anything we want. We get overly self critical, always feeling that things should be better or different than they are. We also get overly critical of others and thus sabotage our good relationships.
In this short course, Gen Delek will explore these very common feelings and present some practical advice from Buddhist teachings that will dispel these feelings of discontent.
Bring lightness and joy into your life and feel truly at peace with who you are, where you are, and who you're with.
The course has two parts:
Part One Being happy with yourself
Part Two Being happy with your life and with others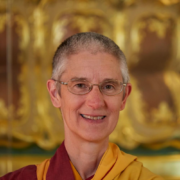 Gen Kelsang Delek is the Resident Teacher of KMC Fraser Valley. Her extensive experience and excellent example are well appreciated by her students. With her practical approach and clear explanations of even the most profound of Buddha's teachings, Gen Delek inspires us to put Dharma into practice in our daily lives.