We are alive, therefore we will die. This is the simplest, most obvious truth of our existence, yet very few of us have really come to terms with this fact. Buddha gave extensive teachings on this subject which are refreshing, illuminating and uplifting.
In this course Gen Delek will explain how to use an awareness of our death to live a more full and meaningful life. She will explain clearly how we can face our own death joyfully and peacefully, and how we can help others, including animals, who are dying.
This course is based on Buddhist teachings but you don't need to be Buddhist to attend. Seating is on chairs and you don't need to wear any special clothing.
Everyone is welcome!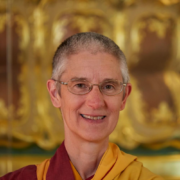 Gen Kelsang Delek is the Resident Teacher of Kadampa Meditation Centre Fraser Valley. Originally from England she has studied and practiced Kadampa Buddhism for over 30 years, teaching internationally in England, Japan and Canada. She has lived and taught in Canada since 1997. We are very fortunate to have her as our resident teacher at KMC Fraser Valley.