A weekend retreat
on the Three Principal Aspects of the Path
In this online retreat we will be contemplating and meditating on the Three Principal Aspects of the Path to Enlightenment by the 12th century Buddhist master, Je Tsongkhapa. Gen Delek will explain and guide meditations on these much-loved verses. We will find in them profound yet practical instructions that provide a foundation for a joyful spiritual life, and for a meaningful daily life.
In this retreat we'll have the opportunity to improve our practice of meditation and to learn techniques that will help us to meditate successfully.
This retreat is open to everyone, whether you are a beginner or more advanced.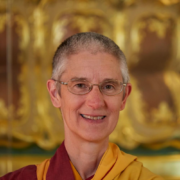 Gen Kelsang Delek is the Resident Teacher of KMC Fraser Valley. Her extensive experience and excellent example are well appreciated by her students. With her practical approach and clear explanations of even the most profound of Buddha's teachings, Gen Delek inspires us to put Dharma into practice in our daily lives.