Finding Happiness From Within
A Day Retreat at Bradner Ecovillage (formerly Edenvale)
Happiness is important. It's important for our physical, spiritual and mental wellbeing. But what is the secret to happiness? How can we find the peace, contentment, and mental equilibrium that contribute to our daily happiness?
Buddha explained that being happy is all about mental attitude, not what we have or what we do. Everyone has the potential for deep and lasting happiness, and here is our chance to discover it.
In this day retreat, Gen Delek will explain and guide four meditations that will create a firm foundation for harmonious relationships, a fulfilling work life, good health, and much more.
Treat yourself to this retreat in the beautiful and peaceful surroundings of Bradner EcoVillage (formerly Edenvale Retreat Centre)! The day will consist of four sessions with a short teaching and meditation in each one. There will be plenty of time between sessions to relax and enjoy the beautiful surroundings.  This retreat is suitable for everyone from complete beginners to those with more experience.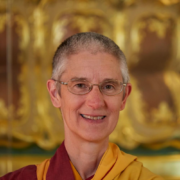 Gen Kelsang Delek is the Resident Teacher of Kadampa Meditation Centre Fraser Valley. Her extensive experience and excellent example are well appreciated by her students. With her practical approach and clear explanations of even the most profound of Buddha's teachings, Gen Delek inspires us to put Dharma into practice in our daily lives.