Meditations for Health and Wellbeing
When the turbulence of distracting thoughts subsides and our mind becomes still, a deep happiness and contentment naturally arises from within. This feeling of contentment and well-being helps us to cope with the busyness and difficulties of daily life.
So much of the stress and tension we normally experience comes from our mind, and many of the problems we experience, including ill health, are caused or aggravated by this stress.
Just by doing breathing meditation for ten or fifteen minutes each day, we will be able to reduce this stress. We will experience a calm, spacious feeling in the mind, and many of our usual problems will fall away. Difficult situations will become easier to deal with, we will naturally feel warm and well disposed towards other people, and our relationships with others will gradually improve.
October 5: How to reduce stress through meditation
October 12: The mind/body connection: improving our health through meditation
October 19: Improving all our relationships
October 26: The inner wealth of contentment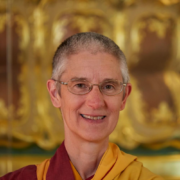 Gen Kelsang Delek, the Resident Teacher of KMC Fraser Valley, is a senior Teacher in the New Kadampa Tradition. She has been a Kadampa Buddhist nun and Teacher under the guidance of her Spiritual Guide, Geshe Kelsang Gyatso, for almost 30 years and has been the Resident Teacher at Kadampa Centres in Canada, Japan and the UK.