The Four Great Preliminary Guides
Courses and retreats throughout 2021
with Gen Kelsang Delek
Throughout this year, 2021, we are emphasising the Four Great Preliminary Guides at KMC Fraser Valley. These are essential practices for making progress in our meditation practice.
Inner realisations do not arise magically from the earth, nor do they fall from the sky.  Gaining deep experience of meditation depends upon certain inner conditions, which we can create by engaging in the preliminary practices.
Geshe Kelsang Gyatso
The New Eight Steps to Happiness
The more conscientiously we practice the preliminaries, the more easily we will gain insights and realizations from our meditation practice. The function of the preliminaries is to purify the negativity in our mind; to enrich our mind with positive energy, or merit; and to activate the positive potentials in our mind by receiving the empowering blessings of the holy beings.
The Four Great Preliminary Guides are
going for refuge and generating bodhichitta
engaging in purification practice
accumulating merit through the practice of the mandala offering
training in Guru yoga
The four preliminaries are like the four wheels of the car. If any of the wheels is missing, the car will not be able to function; and, in the same way, if any of the four preliminaries is missing, we will not be able to make progress in our spiritual practice, in particular the practice of Mahamudra. Mahamudra is a powerful and swift vehicle that takes us to enlightenment in this one short life.
For more information on Mahamudra and on the preliminary guides see The Oral Instructions of Mahamudra and The New Eight Steps to Happiness, both by Geshe Kelsang Gyatso Rinpoche.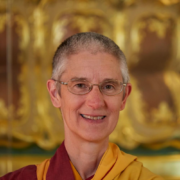 Gen Kelsang Delek is the Resident Teacher of KMC Fraser Valley. Her extensive experience and excellent example are well appreciated by her students. With her practical approach and clear explanations of even the most profound of Buddha's teachings, Gen Delek inspires us to put Dharma into practice in our daily lives.