Heart Practice of Kadampas
Gen Delek will take 6 Friday evenings to explain and guide meditations on this important practice.
The classes will take place in Salmon Arm where everyone is welcome to attend in person; they will also be live-streamed to members.
Heart Jewel prayers are the daily practice of modern day Kadampa Buddhists. These prayers help us to deepen our spiritual practice and increase the insights we gain from meditation. If you are new to Heart Jewel, you will get a good introduction in this series of classes. If you have been practicing for some time, this will be an opportunity to brush up and deepen your practice.
It is recommended to have the book Heart Jewel for this course.
May 12 Introduction: who is Je Tsongkhapa?
May 19 Inviting Je Tsongkhapa from Tushita
June 9 The seven limb prayer
June 23 Migtsema prayer
July 7 Migtsema prayer
July 14 Conclusion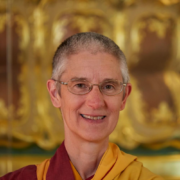 Gen Kelsang Delek is the Resident Teacher of KMC Fraser Valley. Her extensive experience and excellent example are well appreciated by her students. With her practical approach and clear explanations of even the most profound of Buddha's teachings, Gen Delek inspires us to put Dharma into practice in our daily lives.