Online Public Talk
With special guest Teacher,
Gen-la Kelsang Khyenrab
This powerful and practical talk is essential viewing for anyone who feels burdened by anxiety, depression and similar debilitating conditions. If you're looking for a new approach and are interested in the Buddhist perspective, or you know someone who is, this talk is for you.
Gen-la Kelsang Khyenrab has 40 years experience of teaching Buddhist psychology to people throughout the world. He has directly and skilfully helped many people overcome their mental health issues. His advice is wise, compassionate and, most importantly, it is effective.
In this 90 minute talk you will learn practical methods not only to overcome anxiety and depression but also to find real happiness and joy in your life. Drawing on Buddhist wisdom Gen-la will show how a peaceful, happy life is not far away and elusive but achievable right here and right now, for you.
Everyone, Buddhist or not, can benefit from this advice.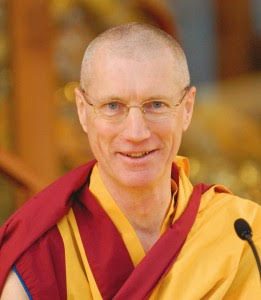 Gen-la Kelsang Khyenrab is the National Spiritual Director for Canada and the Resident Teacher of Kadampa Meditation Centre Canada in Toronto.
Gen-la Khyenrab is an internationally renowned teacher and English Buddhist monk who is greatly admired throughout the world for his powerful teachings, his wisdom, as well as his pure example of humility and loving-kindness. He is also well-known for his deep understanding of Buddha's teachings and his ability to convey their profound meaning in a very clear and accessible way.