Wisdom for the Modern World
Blessing Empowerment of Je Tsongkhapa
Je Tsongkhapa is the manifestation of the wisdom of all theBuddhas. Through receiving his blessings our own inner wisdom will grow and be our constant guide and inspiration. We will awaken our own limitless spiritual potential which will enable us to bring real benefit to this troubled world.
During this empowerment we will also make a special connection with Guru Sumati Buddha Heruka, an aspect of Je Tsongkhapa with whom Venerable Geshe Kelsang Gyatso encourages us to develop a special relationship.
This empowerment is a perfect way to begin the special Guru Sumati Buddha Heruka retreat being offered at KMC Fraser Valley beginning Sunday, December 31st.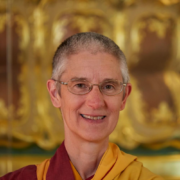 Gen Kelsang Delek is the Resident Teacher of KMC Fraser Valley. Her extensive experience and excellent example are well appreciated by her students. With her practical approach and clear explanations of even the most profound of Buddha's teachings, Gen Delek inspires us to put Dharma into practice in our daily lives.