CURIOUS ABOUT MEDITATION AND MINDFULNESS?
Enjoy a FREE outdoor guided meditation with Gen Delek in the beautiful surroundings of Jubilee Park!  Discover how meditation can empower us to live joyfully, but also purposefully, and how it can help us to find some inner calm, and to reconnect with our limitless potential.
What better way to spend early Friday evening than by learning the fundamental tools of mindfulness that we can then use anywhere, anytime?  Find some calm in this busy city and have some fun with other meditators.
Everyone is welcome. Bring a lawn chair or a yoga mat.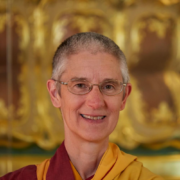 Gen Kelsang Delek is the Resident Teacher of KMC Fraser Valley. Her extensive experience and excellent example are well appreciated by her students. With her practical approach and clear explanations of even the most profound of Buddha's teachings, Gen Delek inspires us to put Dharma into practice in our daily lives.