half-day meditation course
…there is no greater method for experiencing peace of mind and happiness than to understand and meditate on emptiness.
– Venerable Geshe Kelsang Gyatso Rinpoche
Not to be missed!
In his wisdom teachings, Buddha reveals the true nature of reality – emptiness, which opens the door to limitless possibilities. Of all Buddha's teachings, none are more far-reaching and transformative than his teachings on emptiness. Through training in and understanding emptiness we will gain a lighter, more flexible approach to life, and eventually be able to permanently solve all our problems and be of real benefit to others.
In this special course, Gen Delek will teach and guide meditations on emptiness based on the beautiful verses in the prayer "Request to the Lord of All Lineages."
This course is designed for those who wish to refresh their understanding and experience of training in emptiness and for those who have little or no experience of this profound subject. Although course content may be technical at times, it will be presented in a way that is accessible to everyone.
Please feel welcome!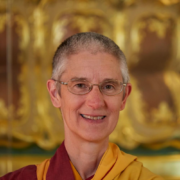 Gen Kelsang Delek is the Resident Teacher of KMC Fraser Valley. Her extensive experience and excellent example are well appreciated by her students. With her practical approach and clear explanations of even the most profound of Buddha's teachings, Gen Delek inspires us to put Dharma into practice in our daily lives.