This course is designed for beginners and those wishing to go back to meditation basics. In it you will:
learn the essentials of Buddhist meditation practice
gain experience of 3 different meditation techniques
take away practical tools to apply in daily life
find that you can successfully maintain a balanced, peaceful mind and a positive approach to all that life offers you
The course has two parts:
Part One Happiness is possible
Part Two Understanding our mind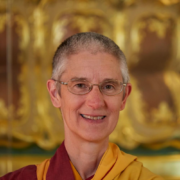 Gen Kelsang Delek is the Resident Teacher of KMC Fraser Valley. Her extensive experience and excellent example are well appreciated by her students. With her practical approach and clear explanations of even the most profound of Buddha's teachings, Gen Delek inspires us to put Dharma into practice in our daily lives.