Gen Delek will give a step-by-step presentation of all the essential stages of preparing for meditation.
She will demonstrate how to set up a shrine, how to make offerings, how to sit in the correct meditation posture, and other simple Buddhist rituals. This class will provide you with the whys, how to, and the confidence for you to design your personal sacred space for yourself. She will explain the role of prayers and the importance of developing faith in Buddha.
This course will be of interest to everyone who wants to deepen their meditation practice.
Everyone is welcome!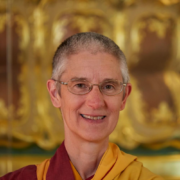 Gen Kelsang Delek is the Resident Teacher of KMC Fraser Valley. Her extensive experience and excellent example are well appreciated by her students. With her practical approach and clear explanations of even the most profound of Buddha's teachings, Gen Delek inspires us to put Dharma into practice in our daily lives.