Reading the news, it is easy to feel hopeless and helpless at the state of the world, as nations go to war and children and families suffer. How can we get over our feelings of hopelessness and instead use a wisdom view to be of help? Each of us can positively influence the world by the way we choose to view things. Our world is not separate from our mind, and the way we think has enormous consequences.
It can be proved, both logically and in our own experience, that choosing a positive view as a basis for positive actions — being optimistic — is wisdom. Holding negative views that lead to negative actions, or resignation, is ignorance, the opposite of wisdom.
In this short retreat, we will explore various optimistic ways of thinking about ourselves, other people and the world around us that are explained in Buddhist teachings. Through meditation we will gain experience of the beneficial effects of deliberately choosing these positive views and actions to help ourselves and others and to reduce the suffering in the world.
Everyone is welcome to this inspiring, uplifting morning retreat.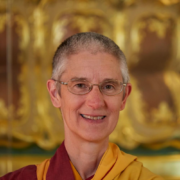 Gen Kelsang Delek is the Resident Teacher of KMC Fraser Valley. Her extensive experience and excellent example are well appreciated by her students. With her practical approach and clear explanations of even the most profound of Buddha's teachings, Gen Delek inspires us to put Dharma into practice in our daily lives.