Post Summer Festival Retreat
A 5-day retreat on completion stage with Gen Kelsang Delek. This guided retreat is an opportunity to deepen our experience of the teachings and meditations given at the 2022 NKT International Summer Festival in England.
You do not need to have attended the Summer Festival in order to attend this retreat.
From Friday to Sunday we will enjoy beautiful, peaceful meditations discovering our own mind. This first part of the retreat is suitable for beginner and more advanced meditators.
From Monday to Wednesday we will take a deeper dive into the completion stage meditations of Highest Yoga Tantra. For this second part it is recommended that you have HYT empowerments, or have a sincere intention to receive them soon.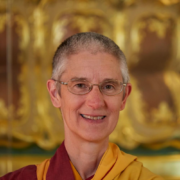 Gen Kelsang Delek is the Resident Teacher of KMC Fraser Valley. Her extensive experience and excellent example are well appreciated by her students. With her practical approach and clear explanations of even the most profound of Buddha's teachings, Gen Delek inspires us to put Dharma into practice in our daily lives.