Refuge retreat
Monday – Thursday, March 8-11
Four day retreat with Gen Kelsang Delek
This retreat is part of the Four Great Preliminary Guides series at KMC Fraser Valley. The four guides are going for refuge and generating bodhichitta, engaging in purification practice, accumulating merit and training in Guru Yoga.
The four preliminaries are like the four wheels of the car. If any of the wheels is missing, the car will not be able to function; and, in the same way, if any of the four preliminaries is missing, we will not be able to make progress in our spiritual practice.
During this retreat, we will get the first wheel on our vehicle: refuge and bodhichitta. Gen Delek will guide two sessions of retreat each day, a precious opportunity to gain experience of refuge and bodhichitta. We will use the prayers Hundreds of Deities of the Joyful Land According to Highest Yoga Tantra available from Tharpa Publications here.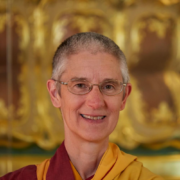 Gen Kelsang Delek is the Resident Teacher of KMC Fraser Valley. Her extensive experience and excellent example are well appreciated by her students. With her practical approach and clear explanations of even the most profound of Buddha's teachings, Gen Delek inspires us to put Dharma into practice in our daily lives.