Patience is an inner strength that enables us to accept and grow from whatever life throws at us.  Without cultivating patient acceptance, we remain vulnerable to anxiety and frustration, and it is difficult for us to maintain peaceful relationships with others.
If on the other hand, if we understand what true patience is and its extraordinary power and value, we will be confident to practice patience in daily life.
In this course we will explore Buddhist teachings and meditations which are practical methods for practicing patient acceptance.  By using these methods in our daily life, we will develop inner peace that cannot be disturbed by changing conditions.
Join us in learning how empowering and liberating true patience can be!
This course is open to everyone and everyone can benefit from it.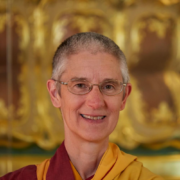 Gen Kelsang Delek is the Resident Teacher of KMC Fraser Valley. Her extensive experience and excellent example are well appreciated by her students. With her practical approach and clear explanations of even the most profound of Buddha's teachings, Gen Delek inspires us to put Dharma into practice in our daily lives.