Half day meditation course
Do you ever feel like you are your own worst enemy? Do habits like procrastination, discouragement and attachment interfere with your efforts to engage effectively in meaningful activities such as meditation? Learn how to get out of your own way.
Join us for this special half-day course in which Gen Delek will explain practical methods and guide us through meditations that give us the power to change and overcome these limiting habits. We will learn how we can start to find real inner peace and be free to live the life we really want to live.
Based on 9th century Buddhist master, Shantideva's Guide to the Bodhisattva's Way of Life, we will learn how the power of determination, confidence, joy and skill will empower us to change our experience of life for the better.
This course is open to everyone and everyone can benefit from it.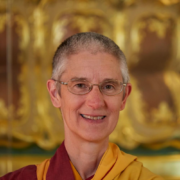 Gen Kelsang Delek is the Resident Teacher of KMC Fraser Valley. Her extensive experience and excellent example are well appreciated by her students. With her practical approach and clear explanations of even the most profound of Buddha's teachings, Gen Delek inspires us to put Dharma into practice in our daily lives.