Learn meditations and ways of thinking from the Buddhist tradition that will help you gradually to reduce and eventually overcome anxiety and stress through controlling and transforming your mind. In this way you can enjoy mental peace and a happy life.
The instructor, Buddhist nun Gen Delek, will emphasize how important it is to find time for inner peace every day. In this fast paced, multi-tasking world we must find time just to sit and be still. She will teach simple, effective meditation techniques that you can take away and practice at any time.
Oct 4 Finding inner peace
Oct 11 The anatomy of anxiety
Oct 18 Learning to let go
Oct 25 Patient acceptance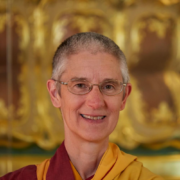 Gen Kelsang Delek is the Resident Teacher of KMC Fraser Valley. Her extensive experience and excellent example are well appreciated by her students. With her practical approach and clear explanations of even the most profound of Buddha's teachings, Gen Delek inspires us to put Dharma into practice in our daily lives.