We know what it's like to be troubled by problems and obstacles in our daily life and in our spiritual practice. Buddhist teachings explain that we can find their source in our negative karma – in our negative actions that return to us as painful experiences.
If we want to be free of these obstacles, we must purify the negativity in our mind.  A powerful and effective purification practice is to visualise and recite the mantra of Vajrasattva, a Buddha whose function is to help us purify our negative karma.
Everyone is welcome to join us online for all or part of this retreat. The second session ONLY each day will be guided by Gen Delek.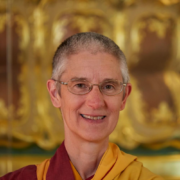 Gen Kelsang Delek is the Resident Teacher of KMC Fraser Valley. Her extensive experience and excellent example are well appreciated by her students. With her practical approach and clear explanations of even the most profound of Buddha's teachings, Gen Delek inspires us to put Dharma into practice in our daily lives.