The purpose of meditation is to make our mind calm and peaceful. If our mind is peaceful we will be free from worries and mental discomfort, and so we will experience true happiness; but if our mind is not peaceful, we will find it very difficult to be happy, even if we are living in the very best conditions.
If we train in meditation, our mind will gradually become more and more peaceful, and we will experience a purer and purer form of happiness.
This class is about training in meditation and improving our concentration. Everyone is welcome and can benefit from this teaching and guided meditations.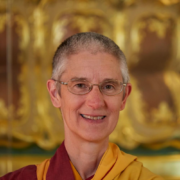 Gen Kelsang Delek is the Resident Teacher of KMC Fraser Valley. Her extensive experience and excellent example are well appreciated by her students. With her practical approach and clear explanations of even the most profound of Buddha's teachings, Gen Delek inspires us to put Dharma into practice in our daily lives.