Join us for this peaceful 2-day retreat set in the tranquil grounds of Rivendell Retreat Centre in Bowen Island.
Not far from the Lower Mainland, nestled in the forest with spectacular ocean views, this retreat offers two days to relax, restore and explore inspiring, insightful and life-changing meditations.  
Using the book Eight Steps to Happiness by Venerable Geshe Kelsang Gyatso, we will be guided into some of Buddhism's best-loved teachings, giving us clear methods for transforming all life's difficulties into valuable spiritual insights, for improving our relationships, and for bringing greater patience, empathy and compassion into our life. 
Leave inspired and take home ancient wisdom that will help you find greater happiness and meaning in your busy, modern life. 
It is suitable for those new to meditation as well as experienced practitioners. The retreat schedule allows plenty of time for quiet relaxation, enjoying delicious vegetarian meals and walking in the beautiful surroundings.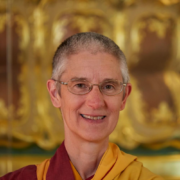 Gen Kelsang Delek is the Resident Teacher of Kadampa Meditation Centre Fraser Valley. Her extensive experience and excellent example are well appreciated by her students. With her practical approach and clear explanations of even the most profound of Buddha's teachings, Gen Delek inspires us to put Dharma into practice in our daily lives.
Gen Kelsang Sanden is the Resident Teacher of Kadampa Meditation Centre Vancouver.  Born and raised in the Lower Mainland, he has been a long time student of Geshe Kelsang Gyatso, the founder of the New Kadampa Tradition. He is well loved for his compassion, sense of humour and the clarity of his teachings.