A day course on purification practice
Where does our suffering come from? Why do we experience so many problems and difficulties? Why do bad things happen to good people?
In this day course, Gen Delek will address these questions and present the solution: we need to purify our mind, in daily life with practical, effective techniques for transforming adversity, and in meditation with Vajrasattva practice.
We will learn the practice of Vajrasattva, the Buddha of purification, through which we can completely purify all our negative karma. For as long as our mind is burdened with negativity we will experience unhappiness and problems in our daily life and we'll find it difficult to make progress on our spiritual path. We all have this experience, but there is no need to be discouraged because by purifying our mind with the powerful, scientific method of Vajrasattva we transform our mind and solve our problems.
Once we have purified our mind of negative karma, all our actions will naturally be pure and as a result everything we experience will be pure. This is how to find true happiness from within our mind.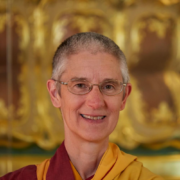 Gen Kelsang Delek is the Resident Teacher of KMC Fraser Valley. Her extensive experience and excellent example are well appreciated by her students. With her practical approach and clear explanations of even the most profound of Buddha's teachings, Gen Delek inspires us to put Dharma into practice in our daily lives.