Buddhism teaches us how live happily in the midst of uncertainty. It offers us simple, practical and scientific methods for finding inner certainty and inner happiness that we can rely on.
Through turning to Buddha (who gave these teachings), practicing Dharma (Buddhist teachings and meditations) and connecting with Sangha (our spiritual community) we find a source of reliable, unfailing refuge. They give direction and purpose to our work life, home life and to all our activities and relationships.
In this annual retreat, we get to contemplate and meditate on refuge in Buddha, Dharma and Sangha; in each session there will also be a lamrim meditation. Gen Delek will give an introduction to the retreat on Friday night and the weekend sessions will be minimally guided.
Everyone is welcome to this short retreat.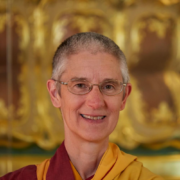 Gen Kelsang Delek is the Resident Teacher of KMC Fraser Valley. Her extensive experience and excellent example are well appreciated by her students. With her practical approach and clear explanations of even the most profound of Buddha's teachings, Gen Delek inspires us to put Dharma into practice in our daily lives.