This course taught by Gen Delek is following the book Meaningful to Behold which is a commentary to the powerful and much-loved poem, Guide to the Bodhisattva's Way of Life by the 8th century Buddhist master, Shantideva.
We are currently studying Chapter 9: the perfection of wisdom and Chapter 10: dedication.
Class format
The Liberating Prayer
Praise to Manjushri
Teaching
Meditation
Dedication prayers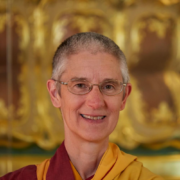 Gen Kelsang Delek is the Resident Teacher of KMC Fraser Valley. Her extensive experience and excellent example are well appreciated by her students. With her practical approach and clear explanations of even the most profound of Buddha's teachings, Gen Delek inspires us to put Dharma into practice in our daily lives.