half day meditation course
We all know the word karma, but a deeper understanding of it will give us the power to transform our lives.
The law of karma is a special instance of the law of cause and effect, according to which all our actions of body, speech and mind are causes and all our experiences are their effects
Geshe Kelsang Gyatso How to Transform Your Life
By deeply understanding that our happiness comes from our positive thoughts and actions, and our unhappiness from our hurtful thoughts and actions, we are given the tools to redirect our lives.
Rather than seeking happiness, we learn to create it. Rather than running from unhappiness, we learn to abandon its causes. Understanding karma puts us in the driver's seat of our own life.
In this course we will understand how, by using the law of karma we can change our experience of the present, heal the past, and create happiness for our future. 
Join us for this mini retreat with our Resident Teacher, Gen Delek.
Everyone welcome!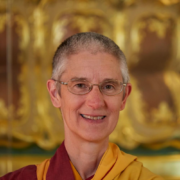 Gen Kelsang Delek is the Resident Teacher of KMC Fraser Valley. Her extensive experience and excellent example are well appreciated by her students. With her practical approach and clear explanations of even the most profound of Buddha's teachings, Gen Delek inspires us to put Dharma into practice in our daily lives.